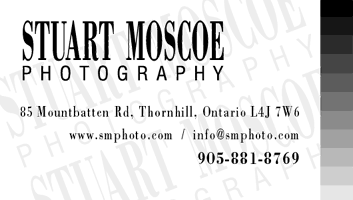 Stuart Moscoe is now a member of the
LVT PHOTO GROUP
If you request Stuart Moscoe as your photographer,
he will perform all the photography personally.
Sales and production of orders will be performed by the
LVT PHOTO GROUP
at
1695 Avenue Road
Toronto, Ontario M5M 3Y3
Tel: 416-780-0111 / Fax: 416-780-0212

We have been providing photography services in the Toronto area for over ten years.

To view the photographs in our galleries at their best,
please set your monitor to thousands or millions of colours.
Here are some useful links: